Remember the 80's and 90's age of music?
The cassettes with brown tapes that recorded and stored music. And the big music players that played them.
Can you imagine carrying one of those in today's time? Even sitting in front of the TV for music? Well, No is the answer.
With today's active and fast-paced lifestyle, it seems alien. We have come a long way through cassette players and Walkman. Now in the age of swift internet connectivity and affordable smartphones, music streaming apps are a rage among the global population. It is the mechanism for unlimited entertainment on the go. Hence, apps like Spotify and Pandora are getting widely accepted. And no wonder why entrepreneurs are looking music streaming apps as a business opportunity.
So, do you plan on joining this music bandwagon?
Are your planning to create a Music Streaming App?
Do you have an idea in mind but looking for feasibility analysis on the same?
If anyone or all of the above is true, this post is well crafted for you to kick start with your idea.
A Peek Into the Market
Before getting started on the business idea, let me tell you what the market has to offer. As per Edison Research and Triton Digital, smart speakers and podcasts are driving the numbers for audio streaming. In the United States, an average individual spends 17 hours in audio streaming. It includes radio stations and online audio content. Moreover, around two-thirds of the country's population now listen to online audio content. And you can see that it is a significant rise from 2012 figures. Additionally, it has also been observed that more than 50% of the people in the age group of 12 years and older have listened to a podcast.
Looking into the music streaming service providers, Apple Music holds the highest share of monthly subscribers with 49.5 million. This is followed by Spotify with 47.7 million and Pandora Radio with 36.8 million. All these statistics reveal that demand to build music streaming app on the high.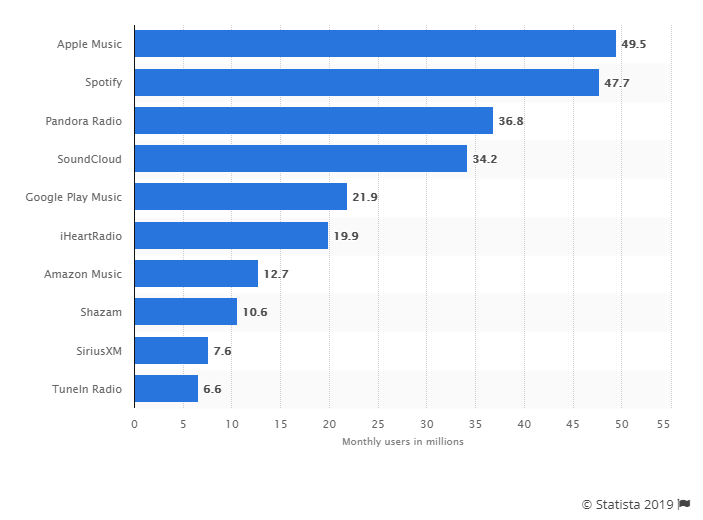 Spotify in the Spotlight
Ever thought why Spotify made it to the top spot? Well, it is claimed to be one of the premium music streaming service providers when we talk about music streaming apps.
BusinessWire, in its research revealed the revenues Spotify generated a humongous 1.5 billion USD in the third quarter of 2018. Out of this, USD 1.35 billion was channeled from Premium subscribers. Ad-supported Spotify users generated USD 160 million for the service provider. Therefore, it is evident that Spotify has been on a steady revenue generation streak since its launch in 2008.
What New Features Spotify Is Adding?
Spotify has been successfully updating its music streaming app with changing technology trends and user requirements. For the Premium subscription plan, there have been certain feature additions last year. You definitely want to keep a close eye on these features if to plan to create a music streaming app.
1. A Seamless Navigation Guaranteed
The application provides user-specific music recommendations on the home screen. There is an advanced search option which can aid in finding music according to genre, artist or other interests. There is a "Your Library" feature which lists the user playlists, favorite songs and artists and much more.
2. Radio Playlist
The newest update has an Artist Radio playlist option. This feature offers to stream personalized music as per user preference based on an artist. Regular updates are available in this segment. Additionally, there is a download option also. Hence, the user can enjoy music offline.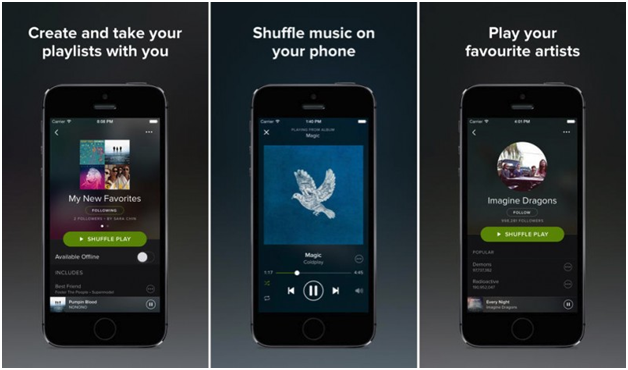 Source: https://www.aivanet.com/2014/04/spotify-for-ios-updated-with-redesign-revamped-browse-and-playlist-features-ios-blog/
3. User-Centric Search
The all-new search page shows the albums and artists as per user preference. It is also useful for exploring new music areas and genres as per mood and interests. For any music streaming app creation, you have to have a user-centric UI that appeals to the mass.
5. Voice Command
Spotify can take your voice commands. You can tell the app to play a certain song or show artist songs and albums.
6. Private Mode
If you do not want your certain specific music interest to stick to the "Discover Weekly" playlist, then you can flip into the "Private Session". For added convenience, it turns off automatically after inactivity of 6 hours. It also protects the privacy of the user in case someone plans on a sneak peek into the app.
Thought Behind the Idea
It is evident that in order to create a music streaming app like Shopify, it is essential to plan and carry out certain tasks. There are certain elements of the business and development process, which needed to be penned down and discussed.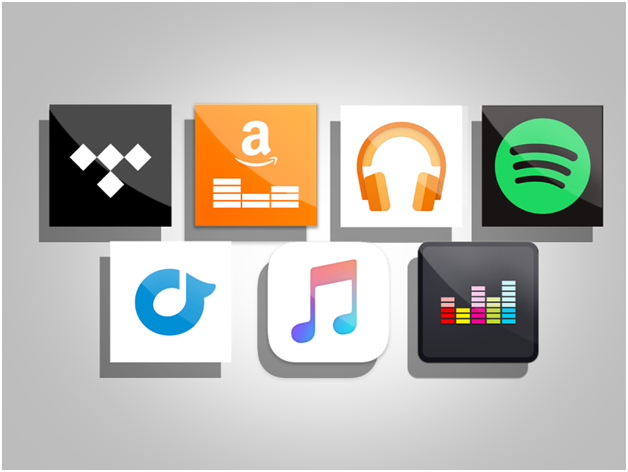 Source: https://digitaldojos.com/2016/03/01/the-music-streaming-service-battle/
What was the Scope?
The market is loaded with many music streaming apps. Consequently, new features are introduced intermittently. This opens up new possibilities each day. Hence, it is essential to chalk out the business scope and detailed path of the application development for the desired outcome. In order to define the scope of the music streaming app, it is essential to identify the target audience. This factor outlines the interests and features to be incorporated into the application. It aids to identify the MVP (Minimum Viable Product). With time the company can add features as per preferences.
What was the Target Audience to Create the Music Streaming App?
The music app leader Spotify mainly targets millennial. As per the brand itself, around 72% of its users are millennial. Also, a little more than one-fourth of its users are in the age group of 18 to 24 years.
No matter how good your app is if it does not touch the essence of the target audience, there is a no go. Hence, you should know who you are building for. This helps in understanding the user requirements and development costs associated with. In the long run, you can also determine the marketing costs based on the same.
It comes as a proven fact that the new age Millennial are major music lovers. So, if you want a solid user base, you definitely need to focus on this segment.
What Kind of Permissions does it Require?
Before you can land into the stage of how to make a music streaming app, it is essential to understand the licensing associated with it. You need to have Public Performance Rights License for providing high-quality audio content to the listeners. Additionally, there is the question of royalties as well. A specific section of the revenue needs to go to the artists and music companies as royalties. To understand how music streaming app work in details, let's take baby steps instead.
Music App Prototype
Before you put your best foot forward, it is essential to take a basic step. A prototype is the first building block in order to create a music streaming app. It is the first-hand representation of your music app. You can get the reviews from a small section of the target audience and their viewpoint. From the development side, it aids in rectifying errors and making alterations as per requirement. So before you figure our how to make a Spotify app, it's better to develop a rough prototype with your unique features.
Minimum Viable Product (MVP)
The Minimum Viable Product (MVP) approach is a dependable way of testing a business idea. It aids in understanding and acceptance quotient among the target audience regarding the application.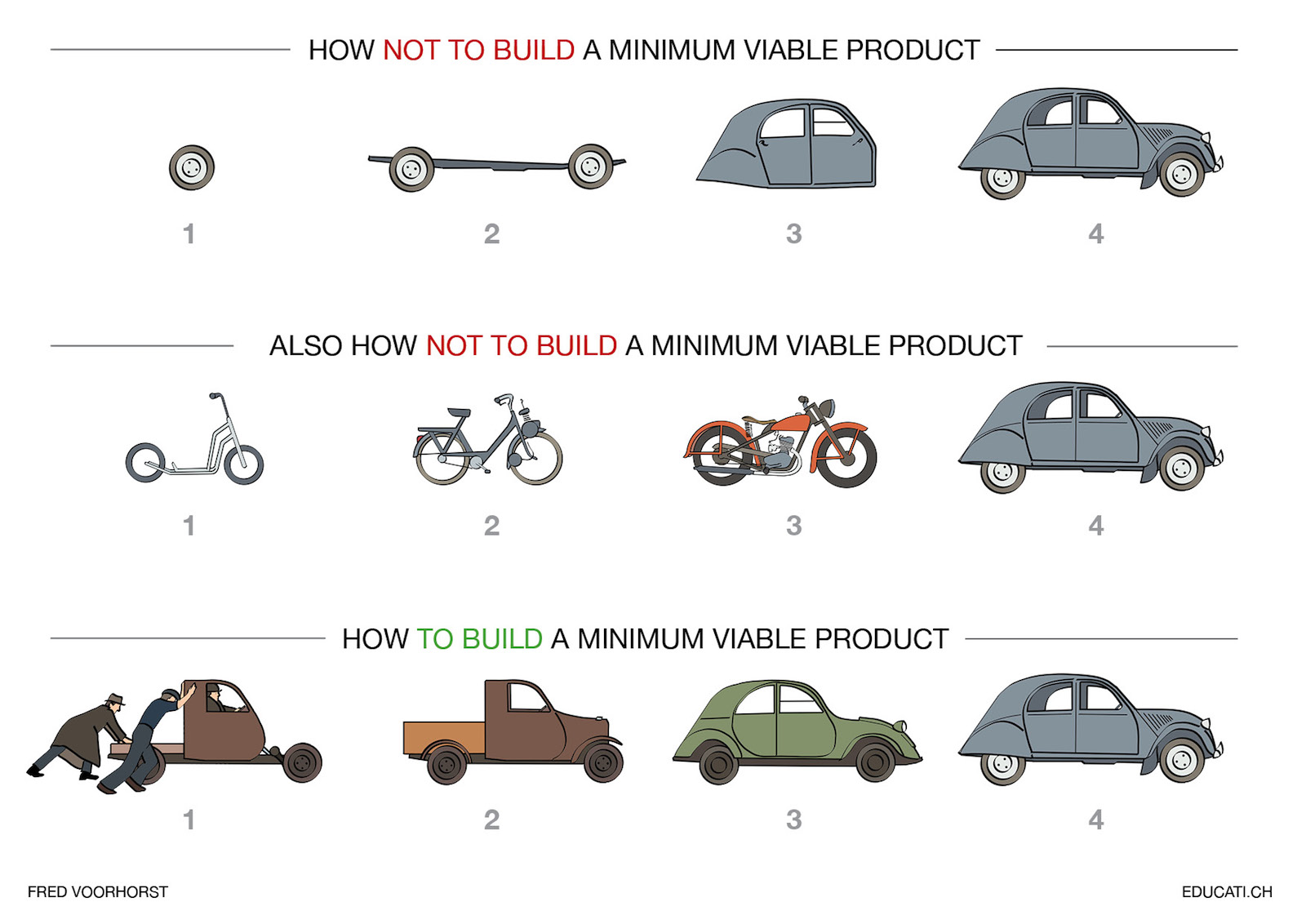 It is a pitstop before developing a fully functional app with all the features. This approach involves minimum coding and custom features. It is an evaluation of the of the business assumptions and necessary changes can be made from the outcome. This approach will help you with a clear understanding of your music streaming app. This clearly shows what works and what doesn't.
So when you are wondering how to create a music streaming app like Spotify, do go overboard with the features in it. Rather choose something unique for you own music streaming app idea. Develop an MVP with one of of the most important features and launch it in the test market. It's all about understanding and evaluating the response. And then develop the rest. If you need help sorting your features and MVP, take a consultation from us. Our experts will validate your idea and suggest you the best road map to success!
Features That You Should Include To Create A Music Streaming App
Before we dive in to create a music streaming app, let's talk about the features that you need to focus on.
1. Seamless Registration: Let Your User Register Easy
What happens when you see a long form to fill for a service? That's right! It feels like a lot of work and you lose interest altogether. Imagine the same for your music streaming app. The registration is the first impression that you create for the users. The basic registration allows you to gain customer attention. It should be simple and multifaceted. You can include authorization process as per your criteria.
Apart from email and phone number registration, social media registration, and login process can be effective too. The app should also have a simple process for sharing music on various social media platforms. This gives the right exposure to your music app for gaining new users.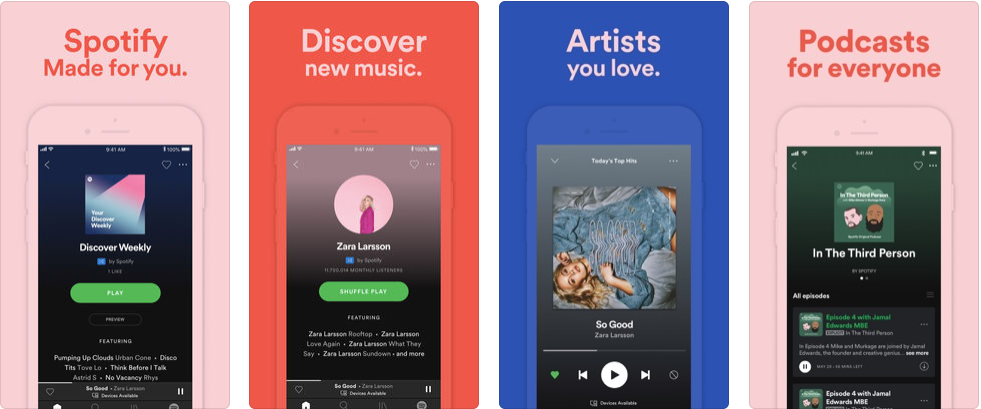 Source:https://itunes.apple.com/
2. Search and Navigation: Make it Flawless
Make it easy for the user to find his favorite music. An advanced search option helps the user to find music according to mood or artist and keeps up the engagement quotient high. The user must be able to find his favorite track within a few clicks. Include smart filters in your music streaming app. This aids in minimizing the number of options to surf through.
3. Socializing Through Music
People love to showcase activity involvement on social media nowadays. Be it visiting a place, watching a movie, having dinner etc. Then why not share music experiences! You can give your users a socially musical experience with convenient sharing options on various platforms.
This will, in turn, give your brand a positive exposure on social media.
4. Music Collections: A Personalized Music Playlist
Let's face it, the collection of music is the backbone for your app. Even before you plan on thinking about how to make a music streaming app, you need to plan on the music collections. It is better if you could provide a certain level of customization to the users. The option can be provided for creating playlists according to mood or artists as per user preference.
In here, it is essential to understand and implement permissions for the audio content. So, you do not run into legal complications.
5. Performance during Internet Variations and Offline Mode
Music streaming apps are largely dependent on stable internet connectivity for break free entertainment. Hence caching function can be a smart choice for non-stop music for your app. With this feature, songs and audio files are stored in the mobile storage. Therefore, your users will still have access to their favorite tracks even when the internet connection is weak or there is no connectivity at all.
6. Personalization- Make It User Specific
Music is an ultimate connector to the soul. Just like identity, every user has his own music footprint in terms of artist choices or genre. On-demand playlists can be very effective in this case. It allows the user to pick and play any track from a pre-curated playlist. The recommendations can be made to the user based on his previous choices and preferences. You can add a Tap option to the tracks so that users can smoothly add music to their favorite playlist.
7. Subscriptions
This is the area where you generate revenue from your app. You can do it in two ways. The basic subscription allows users to enjoy music free of charge but with adverts as regular intervals. But do keep in mind that it should not be too frequent. The interval between the adverts must be chosen wisely.
Another way is through premium subscriptions. The users pay for ad-free music and access to premium audio content.
8. Notifications
While you brainstorm on how to create a music streaming app, push notifications can act as your engagement tool. Sending out the word when a new song is out or an artist launches a new album, keeps your users aware of new tracks and hooked to your music app.
9. Live Streaming
Live streaming can be an attractive addition to your music app. Through proper channels, you can stream live concerts and performances of various artists beyond boundaries. This helps in keeping up with the newest music trends and user interests.
How does Spotify makes money?
Let's face it, the baseline for any business is revenue. You definitely want to generate profits from your music app, right? So how does Spotify makes money? Being a market leader, it has one of the most effective business models in the world.
It has two-way revenue generation. One is for ad-supported users where the profits flow in from the adverts played in between music tracks. Another is through premium subscriptions. In here, the users pay for ad-free uninterrupted music along with access to premium content.
You can plan your subscription plan according to the Spotify architecture as well. It is effective and churns out profits in a dependable manner.
Still thinking about how to create a music streaming app? Well! Just give us a buzz!
What's Your Take?
Ready for the showdown on how to create a music streaming app?
Well, it is evident that there are many popular music streaming apps in the market. But the segment is pretty dynamic. Hence, there are no chances of saturation any time soon. If you strike the right cord, you can create the right melody for a standout music app.
Have an idea about the music app but still thinking about how to put it to use? Well, we are just a call or a click away!