There was once a time we didn't have the pleasure of instantly looking at our photos as soon as they were taken. We had to go through a long wait to have them developed and then cherish the memory. And if someone accidentally blinked in the shot? Oh well, there was no going back.
Even photo sharing was different. The only way for us to share our photos was to show those big-fat photo album to our beloved guests when they visited.
Technology has taken some major steps since those days. Image capture and sharing have come a long way. Today you can click and share as many images you want, within seconds.
The biggest fans of this transformation from old school photos to new age photography techniques are the millennials. They have been here since before the transformation, and it is they who are more inclined towards the photosharing social media.
Because of this immense popularity, the market is full of different social media platforms today. Each of them is offering their own unique twist to the photo sharing experience.
Now you may already know how to make an app and now are wondering about how to make a social photo sharing app like Instagram.
So what does it take to create a photo sharing app? If you are wondering about this, then read on, cause we are going to give you the answer.
How Is The Market For Photo-sharing App?
Before we delve deeper into the technicalities of how to create Instagram app or how to make a photo sharing website, let's take a brief look into the market.
Today social media is the baseline for the photo-sharing segment. Some of the popular social media platforms like Facebook, Instagram and Twitter are hotspots for photo sharing.
Let's look at what the statistics say. As per Statista, social media is the most popular way of recreation and connectivity for the generation now.
Approximately, 64% of internet users access social media. There are a whopping 1.6 billion social media network users worldwide. In North America, more than 50% of internet users are social media users. In the United States alone, there are 160 million social network users.
Instagram- The Ruling King Of Photosharing App
When it comes to photo sharing apps, Instagram is a household name.
Launched in 2010, acquired by Facebook in 2012, Instagram is a name that everyone knows. As of June 2018 in the US, Instagram had 1000 million monthly active users. More than 50% of this user base is in the age group of 18-29 years.
Success Story of Instagram
How does one app become the household name for photosharing apps? Have you ever wondered?
Instagram is an app that is basically a photo first. Which means, unlike Facebook, where you can share everything about your life, Instagram relies only on the photos you upload.
If you are thinking Instagram became this popular just cause everyone is sharing photos on it, you are partially right. It is also an excellent platform for business marketing and promotions. Having an account on Instagram means being able to reach it's 1 billion users as of June 2018.
There are 25 million business accounts on Instagram and over 80% of Instagrammers follow a business profile.
If you wanna talk money, then we would tell you Instagram brought in $4 billion in revenue in 2017. This accounts for 20% of Facebook's annual revenue. The number is supposed to swell to $10 billion by 2019.
Continuing from the business and marketing point, 60% of users stated that they learned about a certain product or service from Instagram
So in brief, why is Instagram becoming so popular now?
Because it's not only a photosharing platform, but it works excellently as a marketing platform. No matter what kind of business you have, you can utilize an Instagram account to increase your consumer base. The app's success in not only the Business to Consumer (B2C) segment but also in the Business to Business (B2B) segment.  
So that's the secret of Instagram's success. With this photo-sharing platform, they are not only revolutionizing the social media scene but influencing different segments positively. The app is unique, fun and a perfect match for you, whether you just want to post selfies, or want to expand your consumer-base for your business.
Now let's take a look at Instagram's noteworthy features that made it the king of photo sharing apps.
Why Is Instagram Ruling The Photo-sharing App Segment?
Which feature makes Instagram so popular?
Simple, its user-friendliness. Its ease of using the app is something that hooks the first time user and makes sure they never stop using. But what other features does it have? What other features make it unique?
Before you start planning on how to create Instagram app and become popular, take a look at their unique features.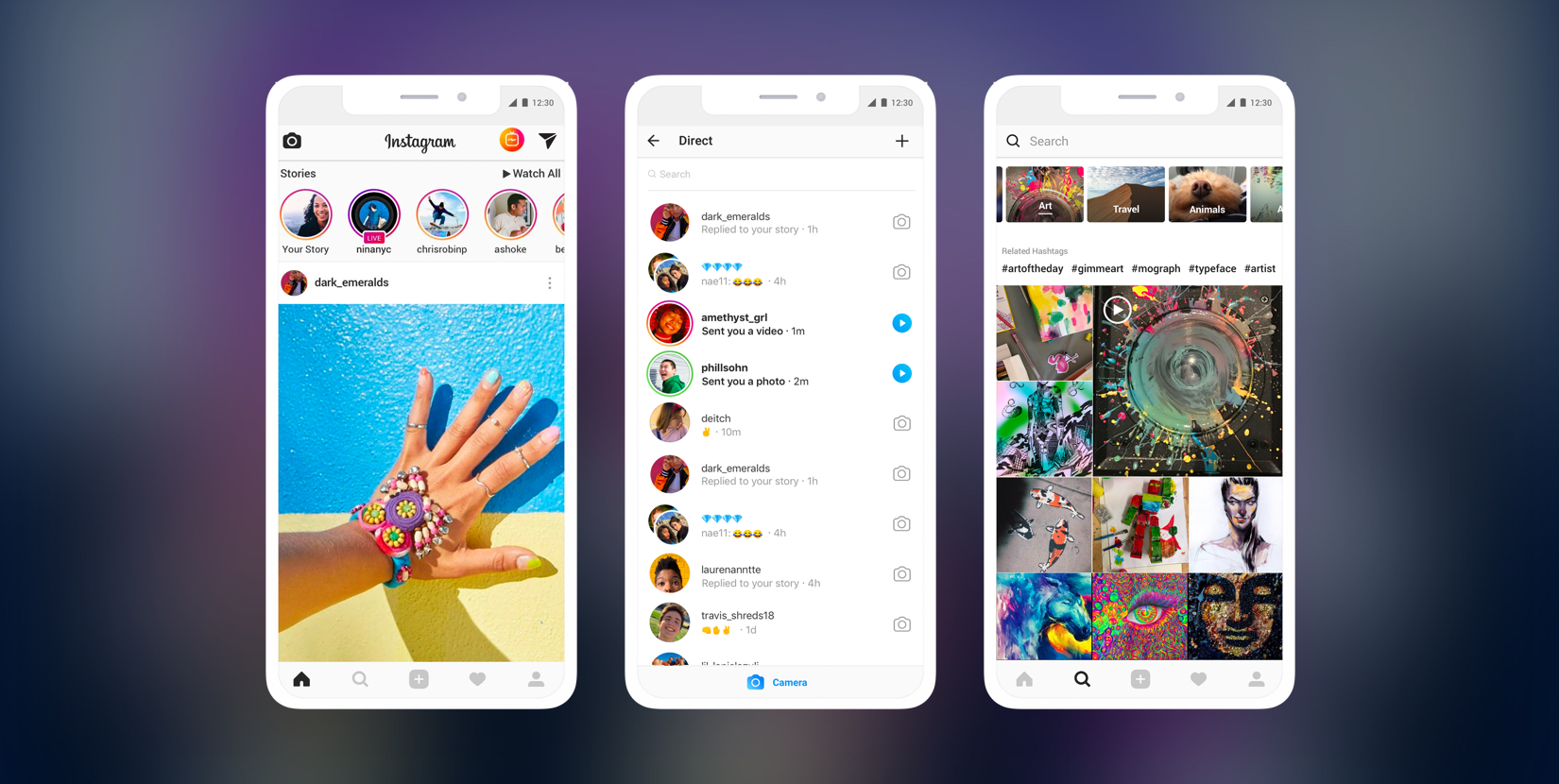 1. Live Filters for Extra Touch of Personalization
Images come to life with Instagram's live filters. You can add live elements to your picture as you click it. This can be stickers, weather elements, effects and much more. There is another surprise to this feature also. The elements added can respond to real-time movements and elements of the actual image.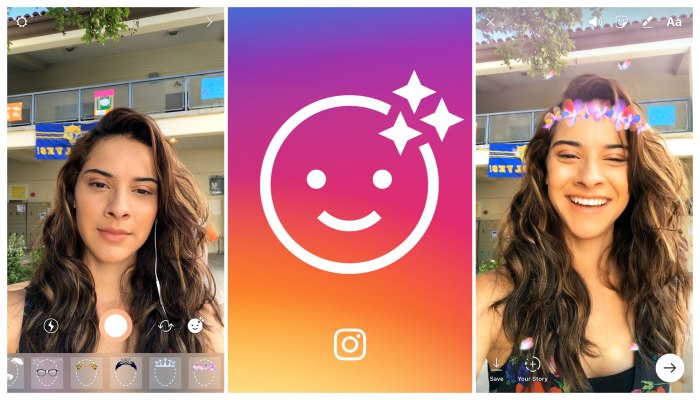 There is professional editing option as well. This adds another layer of perfection and individuality to your photos.
2. Boomerang – Combine the Effect of video with pictures
With Instagram, you take your photo sharing experience to the next level The Boomerang function allows you to snap a series of ten pictures at once and converts it into a mini video. The images are taken within a short span of time.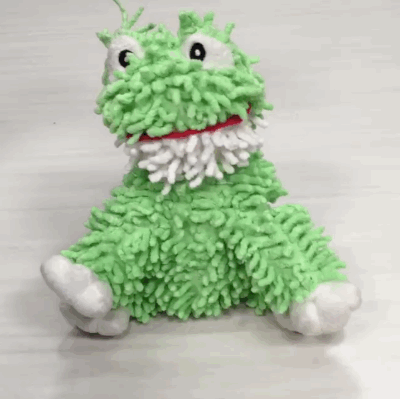 The best part, there are no bumps in the middle. You can do all this at the touch of a button. The video loops back and forth automatically. Instagram helps you create your very own motion sceneries effortlessly.
The image video created is stored in your phone's camera roll section. That means you can share it across other social media platforms.
3. Go Live with Insta
Now anyone can share live video with Instagram. The user just needs to tap into the top left of the screen. Or, they can swipe right anywhere in the Feed section. It is that simple.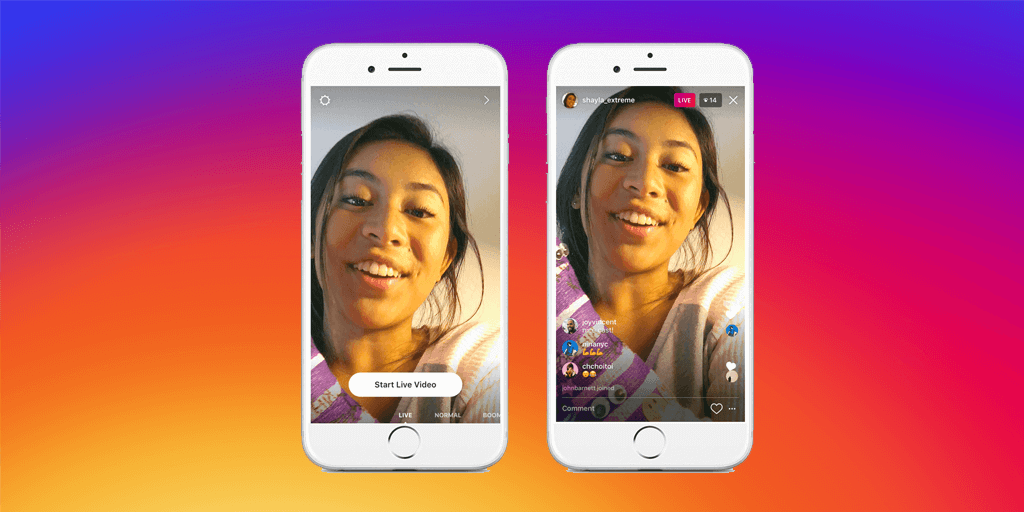 The user can also see the number of viewers for your video. They can opt to keep the "comment" function open or close as per requirement. With this feature added, Instagram is now one of the popular live streaming apps as well.
4. Story
Instagram "Stories" allow you to post images and videos that disappear from the profile after 24 hours. It does not appear in the Feed section or the profile grid, much like SnapChat.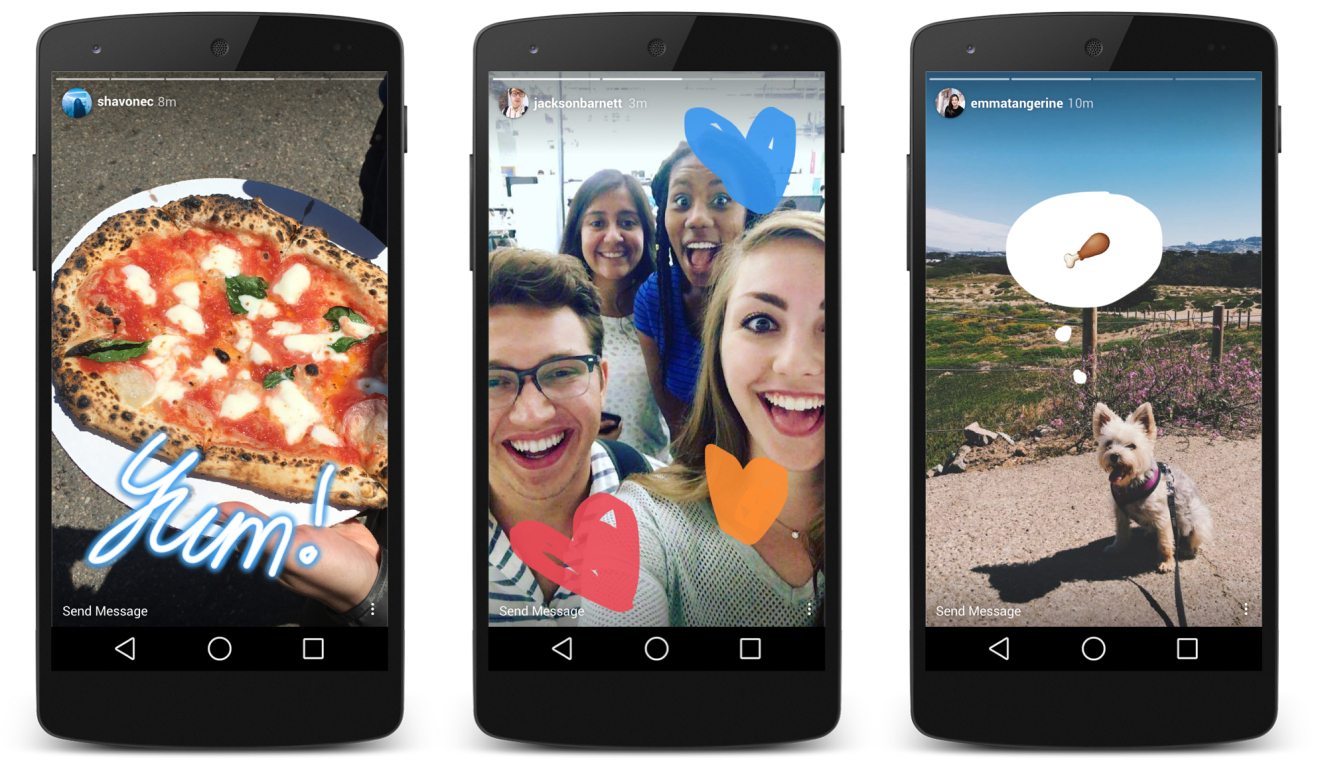 So, you can create and share some instant moments of your life with it.
5. 
Instagram Direct
This feature is not essentially related to photography and sharing. But it gives the feel of a private messaging app. You can chat with people privately through this feature. A great way of connecting with friends and family.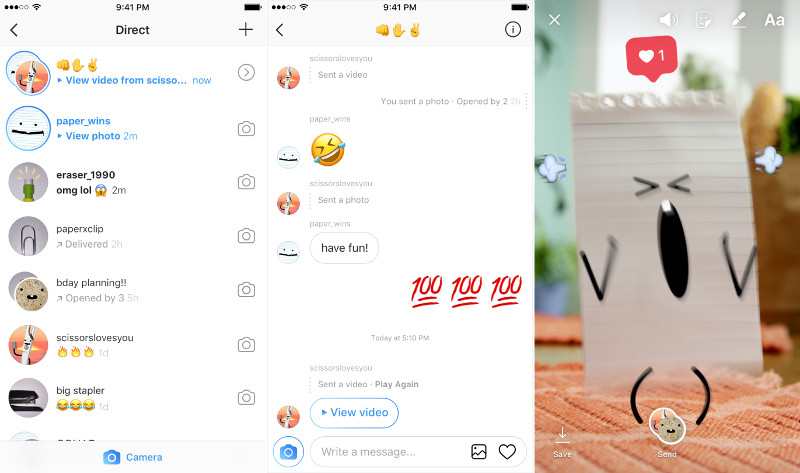 Instagram has evolved with time since its launch. It has been successfully implementing various features to keep up with the competition. Additionally, its continuous reforms keeping up with recent technology trends have added to its success path over the years.
What about the Scope for new Photo Sharing Apps?
We have talked in details about the market for photo sharing apps and talked about Instagram and its popularity. We can now look at the scope of photo-sharing app making.
With the different variety of photo sharing apps in the market, you might wonder if your idea is even worth it or not. You might want to give up on your app idea because the market seems so saturated.
The fact still remains that, no matter how saturated the market gets, there is still a demand for photo sharing apps with new unique features. So you should not only focus on how to make a new app but integrate unique features to it.
Below we have mentioned some unique features that a photo-sharing app can have. You can choose to incorporate them into your app, or you can come up with your own idea. After all, success relies on innovations.
Let's look into some of the unique features showcased by other photo sharing apps.
1. Automatic Creation of Collages and Movies
Anyone can create a specific collage or animated slideshow using photo sharing apps. It's old news today.
What's new is the app automatically creating collages and slideshows with photos based on the date and location of the photos taken. Later on, you can share these slideshows on any social media of your choice.
You can also add special effects, texts, and stickers. The addition of advanced correction tools will only make the shots perfect for the slideshow.
A prime example of this feature used in an app is Google Photos. Not only an amazing photo sharing app, but they are also offering this unique feature. We will talk about more about Google photos later on. Now onto the next feature.
2. 360-degree Panorama
Panorama view images are popular nowadays. Getting a 360-degree view of a place in a single shot is a photographer's dream come true. You can click the images in 3D or 2D view. Just tap a button and move the mobile camera from left to right at a steady pace. The application combines all the frames into a single shot.
You can now have the panorama images with the geotagging as well. Apps like Panorama 360 Camera (HD+) + VR video, Fyuse – 3D Photos, FOV – 360 photo app are helping the users create amazing 360-degree panorama shots and share them on social media as well.
3. Hyper-Lapse
Now you can create time-lapse videos which act as motion pictures. The latest addition to the photo sharing apps. This feature makes use of image stabilization algorithm. It makes the video steady and eliminates jitter. You add a cinematic touch to your image memories with this feature.
Apps like Microsoft Hyperlapse Mobile, Framelapse – Time Lapse Camera are giving their users the ability to create hyper-lapse videos. Instagram's own Hyperlapse app for iOS makes it easy for iPhone users to create hyper-lapse videos and share it on the photo-sharing platform.
Now you must be thinking that since these features are already featured by some apps, how to make your app more unique? There are still a few more features that are less explored by the app makers.
One helpful addition could be direct wallpaper set up. The user can directly set an image as wallpaper for home or as a lock screen. It might sound like a minor element. But, you will be surprised at the augmented user satisfaction.
Image capturing is a frenzy for users. They click multiple shots for getting a perfect image. The auto backup and syncing of images can be useful to

create a photo-sharing app

that stands out in the crowd.
Privacy and security are major factors to consider if you want to

create a photo sharing app

. Images reflect the personal life of a user. You need to consider the parameters that secure the same.
These elements might seems inconsequential to you. But you will be surprised at the impact they will have on the users.
It is essential to understand that users are attracted to advanced photo editing and customization features. They are willing to pay for such features. Combine that with photo sharing apps, you get a new dimension of revenue generation through this segment.
Thus, it is evident that the market for photo sharing apps is not yet saturated. On the contrary, it is set to flourish in the coming years depending on technology-intensive features.
Features to explore in Photo Sharing Arena
By now, you might be thinking that photo-sharing apps like Instagram already cover popular features.
What is more to offer then?
Well, there is. Let's show you.
One helpful addition could be direct wallpaper set up. The user can directly set an image as wallpaper for home or as a lock screen. It might sound like a minor element. But, you will be surprised at the augmented user satisfaction.
Image capturing is a frenzy for users. They click multiple shots for getting a perfect image. The auto backup and syncing of images can be useful to

create a photo-sharing app

that stands out in the crowd.
Privacy and security are major factors to consider if you want to

create a photo sharing app

. Images reflect the personal life of a user. You need to consider the parameters that secure the same.
These elements might seems inconsequential to you. But you will be surprised at the impact they will have on the users.
It is essential to understand that users are attracted to advanced photo editing and customization features. They are willing to pay for such features. Combine that with photo sharing apps, you get a new dimension of revenue generation through this segment.
Thus, it is evident that the market for photo sharing apps is not yet saturated. On the contrary, it is set to flourish in the coming years depending on technology-intensive features.
Photo Editing add-on to the Photo Sharing App
Almost all photo sharing apps these days have the in-app photo editing feature. Along with the ability to click and share, the photo editing facility creates a complete ecosystem for your photo sharing app.
When you give your user the ability to click, edit and share their photos all in the same app, you make sure that they are not going to bounce away from your app. This keeps true, especially for teenagers and millennials.
With the surplus amount of photo editing and sharing app, skipping on this specific feature can cost you. With a decent photo sharing feature your user can click, edit and share their photos seamlessly.
Instagram is not the only player when it comes to photo sharing apps in the market.
Different apps in their different way are re-inventing photo-sharing. They are adding their own twist to it, and all of them are doing a really great job. Let's take a brief look at few of the strongest contender in the photosharing app segment.
Flickr is probably one of the oldest photo sharing websites in this list. Launched way back in 2004, it is now owned and operated by SmugMug, another famous photo-sharing platform.
Flicker is a community where you can't only store your photos but also communicate with other photographers. It is a perfect photo sharing site which helps your inner photographer shine.
One of the most sought after feature of Flickr is the storage space. A free user without any premium plan can store up to 1000 pictures. With a premium account at $49.99, the user can store unlimited photos and videos at full resolution and browse without ads.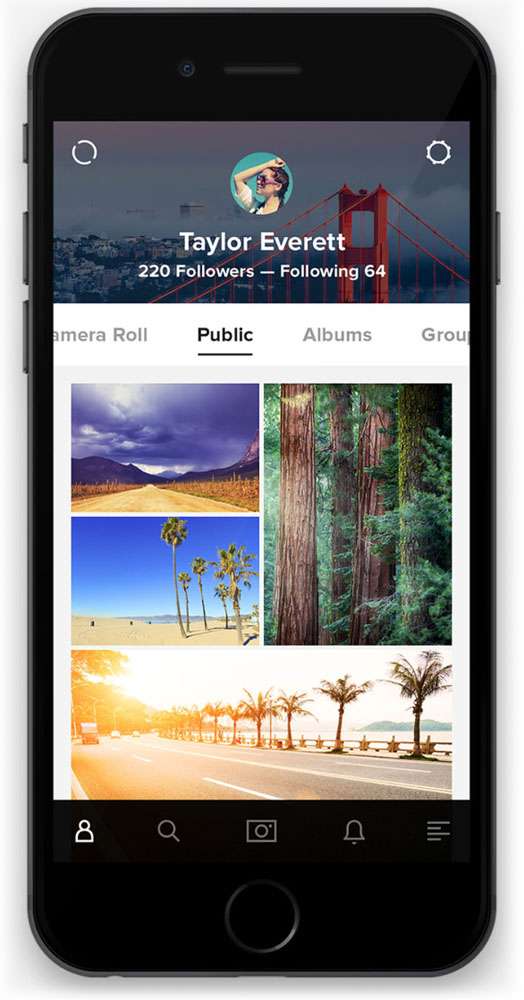 Flickr has recently made a partnership with

Pixsy

, an online photo theft prevention organization to fight photo theft. Now whatever photo the user uploads, they will be able to track its unauthorized uses. This way the photographers at Flickr can enforce their rights over their art.
Smugmug is a subscription-based online image and video hosting and sharing app. It was launched in 2002, and it is still going strong. Preferred mostly by professional photographers, this platform also assists in trading of digital and print media for photographers of every segment.
With its recent acquisition of Flickr, the platform is growing its user base. Along with the photo community of Flickr, SmugMug is getting better than ever.
The Smugmug service is subscription based. They have a four-tiered plan- Basic ($47.88/year), Power ($71.88/year), Portfolio ($179.88/year) and Profesional ($359/year). They also provide discounts when the subscriptions are paid for annually.
It supports image and video sharing across various social media platforms as well that includes, Facebook, Twitter and much more. It also supports private sharing through SMS and email.
The application makes it effortless to follow other users in the community, It can be friends, family or any other person whose work the user prefers to view and explore.
The application showcases detailed information related to the images or videos. It can be the place, time, camera type and such like, This information depends on the setting of the device.
Photobucket is among the numerous photo sharing apps that provide storage and organization. It is known to give an incredible media browse experience to its users. It is also known for providing an incorporated print experience.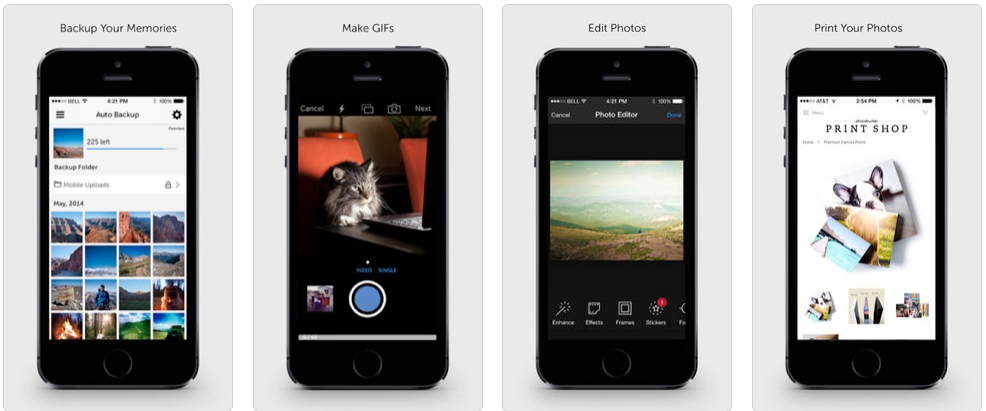 Besides being able to store up to 250 images for free, Photobucket has a three-tiered plan- the 25 GB plan for $4.99/month, the 250 GB plan for $6.99/month and the unlimited plan for $11.99/month. These plans come with watermark-free images and with a lifetime of image storing promise.
There is an effective backup feature that automatically syncs the images on the cloud. The user can also choose the backup option to be manual or automatic as per requirement. Also, the images are stored in actual resolution without any compression so that they are print ready.
There is an option to generate premium prints, canvas, and framed prints as well as greeting cards. The photo products get delivered to the designated address as per requirement.
Facebook is hands down the most famous social media platform. But it also doubles up as an excellent photo sharing app.
You can share your photos and videos, create albums,  and tag people in them. This is an amazing platform for you to keep track of your memories with photographs.
The user can control their privacy settings while uploading their photos. They can set the privacy setting to Public for public access, "friends" for only the people in the friend's list, and "Only Me" for only user access.
Even though it is considered similar to instagram, Pinterest has its own unique features. The user can create virtual pinboards where they can pin photos based on their own interests. They can also follow different boards based on their interests.
Pinterest is a visual treat for the eyes. With

125 million users in the US alone

, the website and app give the users the ability to upload and share photos. The interests can be different, such as beauty, fashion, travel, and food.
It is the ultimate place for the user to find inspiration. With virtual pinboards, users can make different boards based on different subjects and aesthetics. The user can find inspiration for anything for a trip, a wedding, a party or fashion.
A nice combination of Tumblr and Pinterest, We heart it is another unique twist to image sharing platforms.
Launched in 2007, we heart it is a platform that is solely focused on the visual pleasure of images. The user can create collections, where they can add their own favorite photos. There is a wide range of photos to be collected, from food to travel to favorite celebrities.
It is a different outlook towards "How to make a photo sharing app". The user can explore various pictures and videos related to different subjects, be it, fashion, travel, wallpaper, photography and much more. The scope of ideas is infinite. The application has a steady rising user base of 45 million.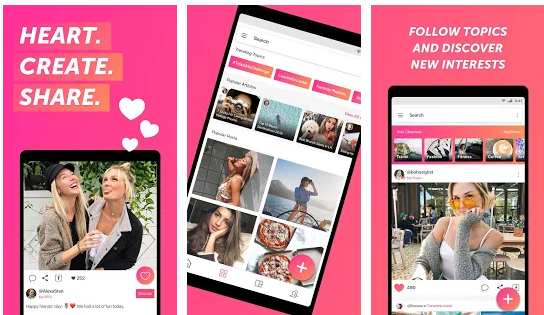 The user can explore a wide array of images, videos, and content that can be related to various topics and segment for inspiration.
Tumblr is a social media platform that allows sharing of various ideas and images conveniently. It can give you a different prospect to create a photo sharing app. The ideas can be related to any topic like from travel to fashion, philosophy and many more.
This application allows sharing of images, videos, content, GIFs and much more.
With a user base of 15 million, this photo sharing application is a photographer's paradise. If you want to create a photo sharing app, you can definitely take a cue from it. One can share photos on this platform and gain worldwide exposure. There is a provision to get paid even. If someone has skills to create magic through the lens, 500px is the platform for them.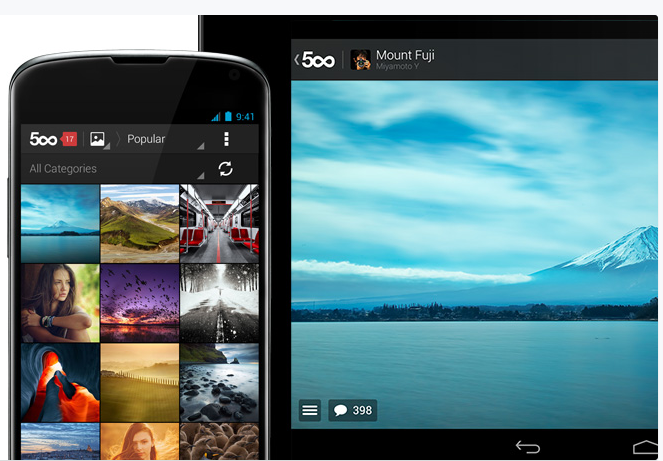 A collection of highly skilled photographs that are ranked as per feedback from the community members. Not only one has access to some world-class photography, but there are also many unique images as well which have a fresh perspective.
Ipernity is an independent image sharing application. The platform is financed through membership dues exclusively. The intention of profit making is not there. The community known as Ipernity Members Association (IMA) maintains the website for this platform.
The digital content such as images, videos, blogs, and audio files are transferred through this platform based on a secured and private exchange. Even the global publication of selected content also occurs on this platform.
The mutual inspiration and communication across geographies are done based on the machine-aided translation. Since the platform has 100% ownership of the members, it remains unaffected by external interests such as investors.
The community itself maintains and manages the privacy and security of the user contents. The content which has been approved for publication is visible in the search results of engines. Analysis, sharing and selling of the content for commercial purposes is strictly prohibited.
Fotki is a social media platform that provides image and video sharing facilities to its users. It is an emergent community for users to share photos and videos. It has over 1.5 million users worldwide.
Yogile is a private photo storage and sharing platform. The trial version of the application is available for free for 7 days. It is a simple platform for sharing images within specific groups. The photos are stored in the form of albums. There is no compromise on the resolution of the images. There is support for different types of image formats including RAW, PSD and such like.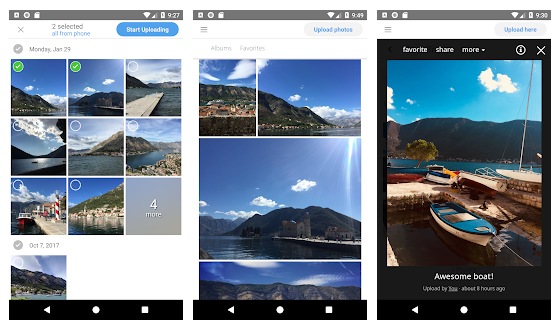 There is unlimited storage for the photos. The images can be organized into folders for easy access. There are many filter options available such as location, date and time for accessing the images hassle free.
Zenfolio is one of the very few photo sharing apps like Instagram that are targeted at advanced photographers to showcase and market their creations. It provides effective management of images as well. It is an all in one application that supports image uploading, gallery management, image view in offline mode, managing orders and downloads.
DeviantArt
DeviantArt is a social media platform that is targeted at artists and art enthusiasts. You can take a queue of features from this app if you are looking into how to create a photo sharing app. It aids in the exhibition, promotion, and sharing of artwork which can be digital art, pixel art, anime, films, various artwork, and sculpture. The platform was launched in the year 2000 and has currently 44 million registered members worldwide. It has statistics of garnering 45 million unique visitors every month.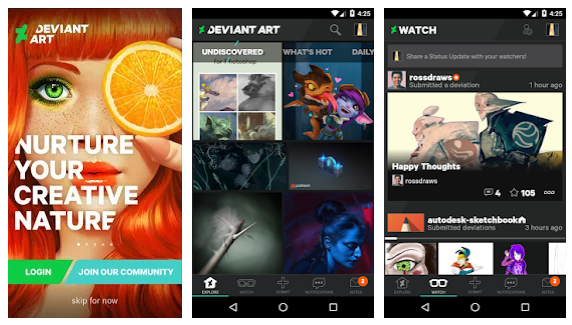 Slickpic is an image hosting platform that is meant for photographers whether amateur or professional. This photo sharing app provides sharing and image enhancement functionalities as well to the users.
The images can be from any genre, be it fashion, family albums, travel and such like.
The feature availability of this application is based on subscriptions. The basic version is free that allows images of size 1600x1200px and the storage limit is up to 1000 photos. This is meant for personal use. There are other paid options available for both professional photographers and commercial usage which allows higher storage space and other functionalities.
Google Photos is one of the most versatile photo sharing apps. It can be considered as an alternate photo gallery that saves the storage space of a phone. There is automated backing up facility available with this application. The images can be organized and shared across different platforms seamlessly.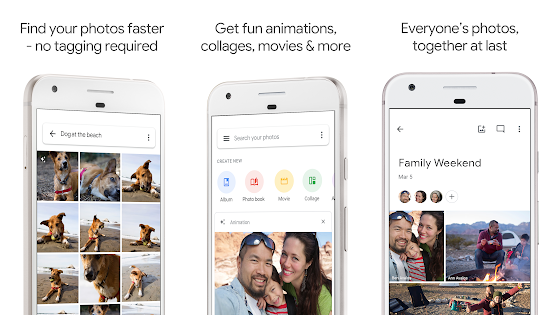 The photo and video storage option is practically unlimited with 16MP and 1080 HD. The images can be accessed and viewed from any device. There are two image qualities in which the photos can be stored, "High Quality" and "Original Quality".
The search option is convenient. The photos can be searched according to location, date, timing and such like. There is no tagging required for this.
The application allows automatic creation for collages, panorama, animations and such like. It also provides the option for creating them on own.
There are many advanced editing tools available. Other than the major tools to adjust brightness, saturation and such like, it also provides 14 unique photo filters.
The images can be shared easily over social media, emails and to any specific contact. There is another option wherein the user can grant access to another person to some of the photo albums as per requirement.
The cluster is one of the photo sharing apps that support private sharing of images within a group of people. This application ensures secure image sharing like no other.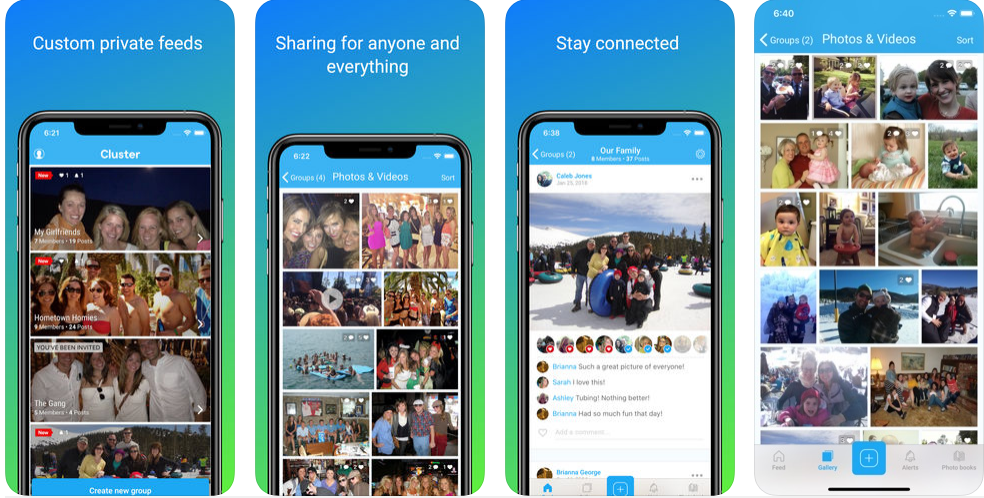 The user needs to create a group comprising of the people he or she wants to share the images with. Then the photos need to be uploaded for viewing. It is ideal for students, office colleagues, friends and family.
The application uses the user location while posting the images. Also, the application provides contact suggestions who can be invited to the group. However, the contact information is not stored within the server.
EyeEm is a photo sharing apps that allows showcasing and retailing of the images by photographers. It is beneficial for photographers who are looking for a display place for their work that brings in appreciation and selling option. It has a community of more than 20 million users worldwide.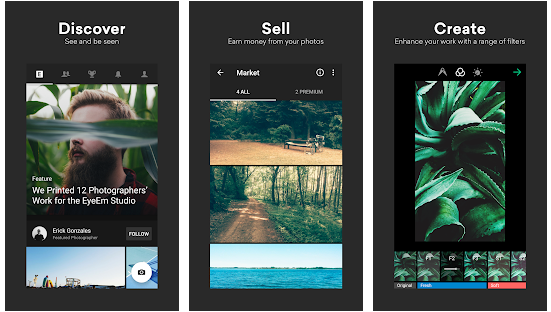 Trover is a photo-sharing app that is targeted mainly at travelers. It is a platform that allows sharing of images that are geotagged.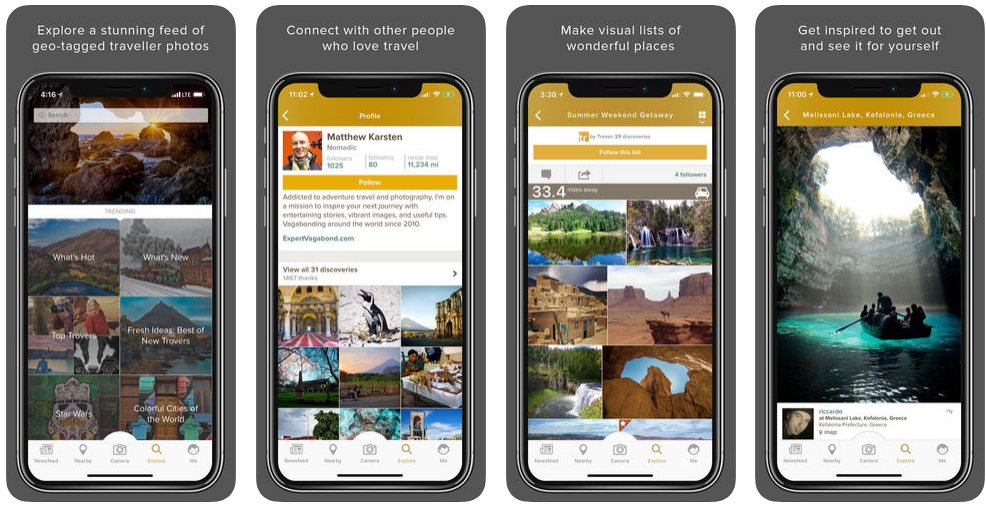 Adobe Photoshop Express is one of the best photo sharing apps that combine the features of a photo editor and sharing platform. It has extensive photo editing and collage making tools that add definition to the images.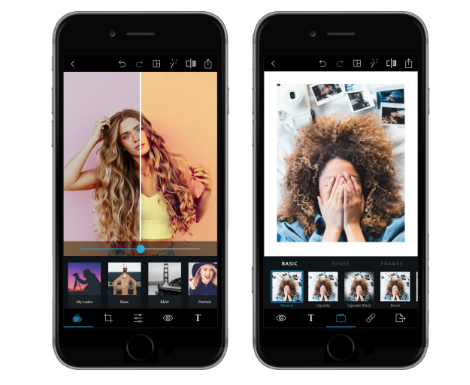 There are certain features of this application which stand out in the crowd. They are noise reduction which removes the grains in night photos, defog which results in haze reduction and perspective correction.
Shutterfly is a comprehensive image platform that provides a host of services to its users. It has a free image storage facility and sharing option along with printing facility.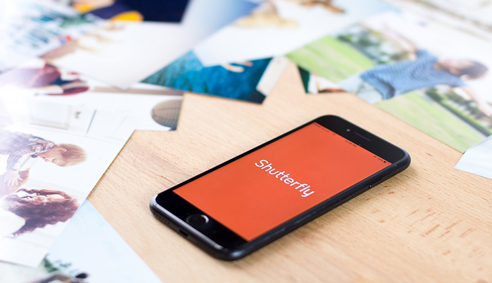 One of the prime services of Shutterfly is to print the photos into gifts, cards, various home décor, and photo books. There is an option for personalization of these items as per user needs.
The photo-sharing apps of this platform are known as Shutterfly Share Sites. It can be used for image share, communication, and calendar event sharing.
This platform can be conveniently used among friends and family, teams, classrooms and travel groups.
Snapfish is a web-based platform for sharing and printing images. District Photo is the owner of this platform. It also has a photo sharing application with a host of different functionalities.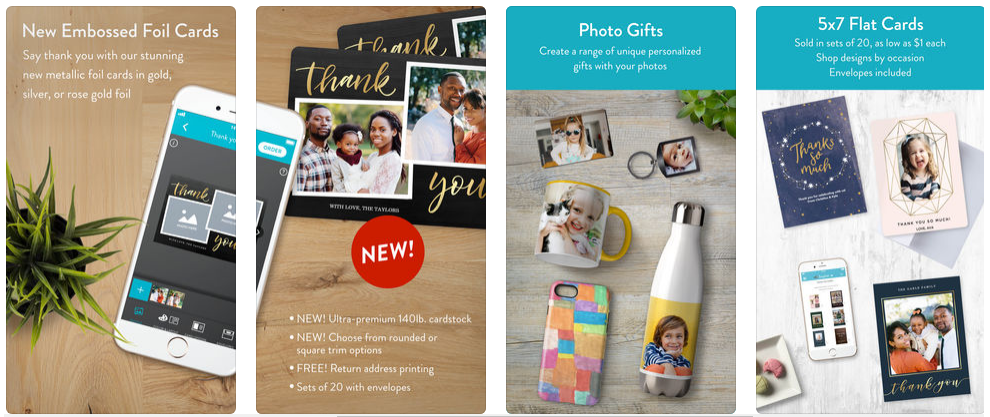 Source: https://itunes.apple.com/us/app/snapfish-prints-cards-canvas/id330035194?mt=8
Coming from the house of Canon, Irista is a cloud storage application along with photo management services. Its photo sharing apps are available on smartphone, tablet and web platform that shows important aspects of how to create a photo sharing app. It offers a number of facilities to the user.
Source: https://www.irista.com/
Shoto is one of the photo sharing apps that can effectively designate itself as a top-notch image gallery application. It has conveniently usage pattern. Users can share images with a single tap hassle-free. It has unlimited backup storage.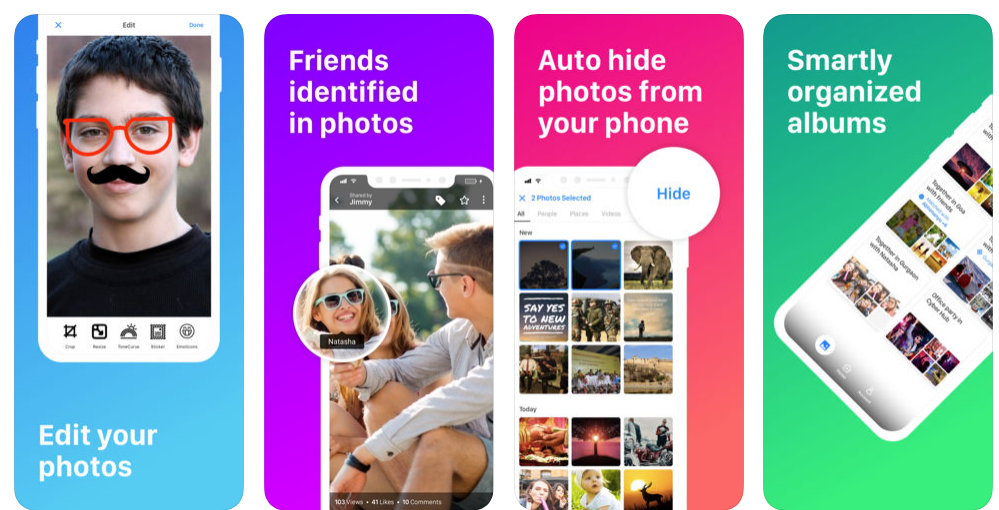 There are different editing tools present in this app which allows enhancement of images. Additionally, a wide range of filters, frames and stickers are also available.
Vebbler is one of the photo sharing apps that provides a simplistic image share platform. Here people connect with each other through communities of shared interests. There are many categories of images available. Some of the popular ones are fashion, travel, food, and entertainment.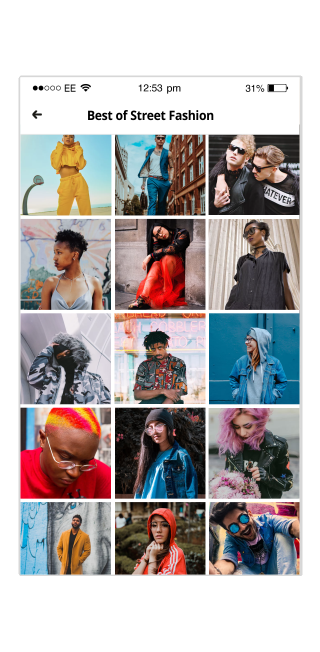 There is a convenient search options present. One can find new communities by tapping in the required categories in Discover page. Additionally, there is an option to like or comment on images. The users can even add stickers and GIFs.
EyesUP is predominantly a social media application with a fresh outlook. It can also double up as one of the photo sharing apps.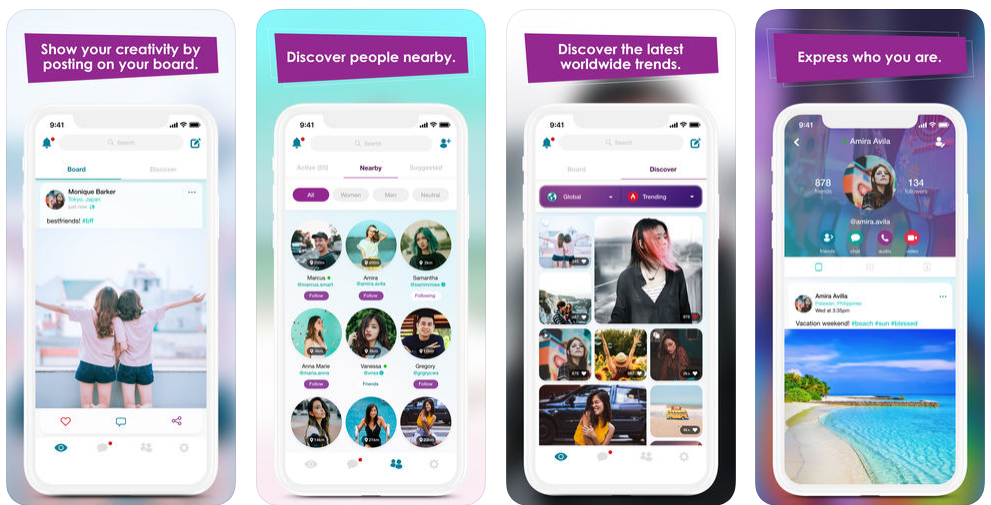 This platform allows the users to discover content from across the globe, be it photos, videos or information. Additionally, there is an option to sort the content as per country and view what is popular among other users.
23snaps is among the well-known photo sharing apps. Hence, you can take the hint to create a photo-sharing app from this application. It is characterized by private photo album sharing and includes a host of different features.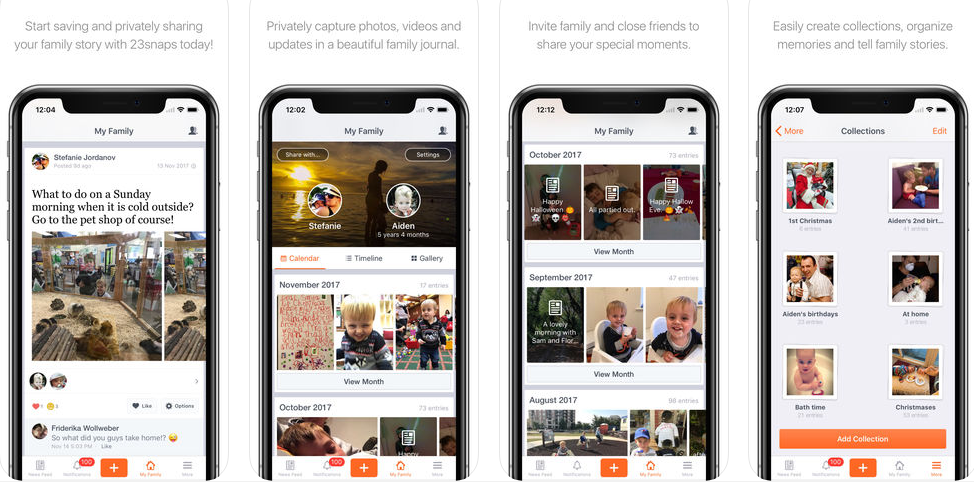 Eversnap is another app for private album sharing. There are more than 1 lakh groups in this application. Share photos and videos seamlessly through private albums.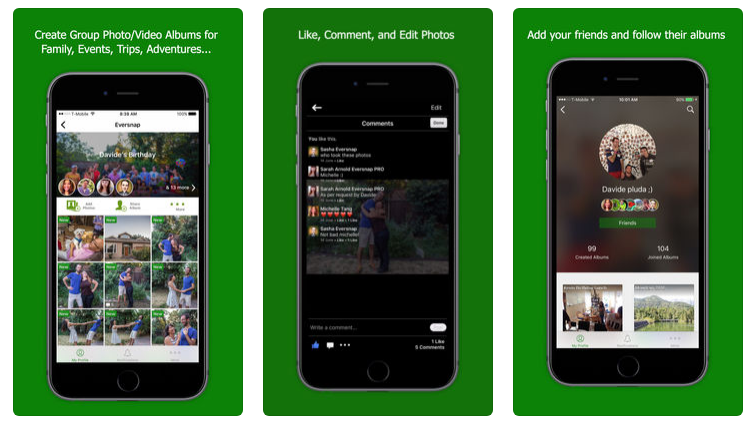 Bonus: How To Create A Photo Sharing Website?
Today making an app and website goes together. If you are asking how to make an app for photo-sharing, then you should also ask how to make a website to go with it.
If you are like Photobucket or Flickr, then you must already have a website. But if you've started with an app, and don't yet have a website, then it's time to make one.
Just knowing how to make a social photo sharing app like Instagram is not going to be unique enough. In this extremely competitive market, you need to add unique features into both your app and website to attract more users.
You need similar features in your photo sharing websites just like your app. But that doesn't mean you can't add some extra bits in your website. When planning on how to make photo sharing website, you need to keep these features in mind-
1. Business Model
Plan your business model right after you figure out how to make a photo sharing website. You probably want to make money with your photo sharing website, that's why you are making it in the first place. Having a monetization strategy is going to help you in making money with it.
The best strategy for you to make money through a photo sharing website is through a subscription basis. Based on the subscription plan, you can offer your users varied storage and editing options. An ad-based business model can also work for free users. But when it comes to photo sharing websites, the users want to avoid ads as much as possible. Offering them different subscription plans will make sure they never leave your website.  With the right ideas, you can easily monetize your app and platform for photo sharing.
2. Homepage Layout
For a photo sharing website, the home page layout needs to be as attractive as possible. It needs to showcase and highlight the best of its photos while being easy to navigate. Easy to navigate and easy to search for desired photos are going to be important to your users, so keep that in mind.
3. Photography portfolio
This one is more useful for professional photographers but any user can have a photography portfolio. This is where they can display their work to the best of their advantage. They may also generate revenue by selling those photos.
The portfolio feature will be useful from the photographer to an experienced photographer. By showcasing their work in a unifying manner they can gain business themselves. So make sure you have this feature on both your app and website.
4. Creating Albums
Obviously, unsorted photos can be a pain when you are looking for a certain photo, but can't find it. Which is why your photo sharing website needs to have a create album feature.  
With this, the user can sort and group their photos together by date, or time, location or event. This will make it easy for them if they are looking for a specific photo in their own collection.
5. Privacy Setting
Whether you make a new app or a website, you can't ignore the matter of privacy. Many people want to showcase their photos to the entire world. While there are many who only want t a chosen few to see their photos. The user should be able to set the privacy setting for each of their photos individually, choosing which photos to show and which to hide.  
6. User Profile
The user profile is an obvious component for a photo sharing website. With the user profile, the user is going to be able to keep a track of their uploads, their favorite photos, and photographers, and see who is seeing your photos and liking them.  The user profile page should be easy to navigate and easy to edit.
7. Community function
Most photosharing platforms are creating a community of photographers from around the world. Whether they are taking just a selfie or a breathtaking shot of the grand canyon. You should not forego this functionality while making a photo sharing website.
Jlook at the popular photo-sharing platforms and see how differently they are making a community. Integrate this feature into your own website in a unique way.
The Bottomline To Create Photo-sharing Apps
Photos are forever, and sharing them brings joy to the people. Making the perfect photo-sharing app and website should not only be your business, but it should also be your passion.
The market for photo sharing apps might look saturated to you. But trust us when we tell you that people are looking for more photo sharing platforms every day. And maybe your platform is going to become their new favorite.
But rather than just thinking along the lines of make a social photo sharing app like Instagram, make sure you consider the uniqueness of the  UI/UX features of your app. Research on how much does it cost to make an app like Instagram. Integrating uniqueness in your photo sharing app is going to make your app a winner in the saturated market.
We're recognized as a top App Design & Development Company on DesignRush, Clutch, and GoodFirms.